Jailers assaulted in the jail
10/14/2019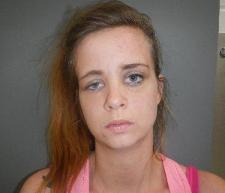 CAITLIN HAYNES
On October 9, jailers with the Sheriff's Department were conducting standard cell searches in the women's section of the jail. The female inmates were seated on a bench in the hallway. Items were located in the cell of Caitlin Taylor Haynes and confiscated. Haynes became upset at this and started yelling at the jail staff. She then got up off the bench and attacked the jail staff.
Haynes has been incarcerated in the Izard County Jail since April 10, 2019 on a bond revocation for felony drug charges and battery charges that she had pled guilty to and is awaiting bed space in the Arkansas Department of Corrections. During this time Haynes' has had multiple incidents of assaulting jail staff.
For this incident Haynes has been charged with two counts of battery in the 2nd degree, both are class "D" felonies.
P.O.C.
Sheriff Earnie Blackley