DRUG TAKE BACK
04/28/2021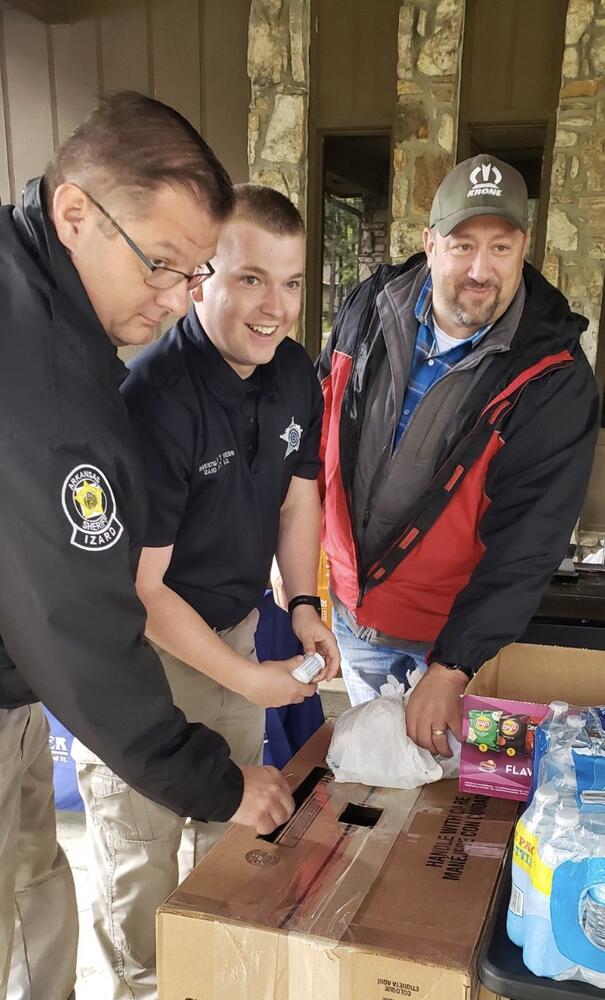 CHIEF DEPUTY CHARLES MELTON, INVESTIGATOR TYLER WEBB, IZARD COUNTY TREASURER WARREN SANDERS
Two hundred pounds of unused, unwanted and out-of-date narcotics were disposed of this week, according to Izard County Chief Deputy Charley Melton.
Melton said drugs brought to the DEA National Take Back Drug Event held April 24 were added to the items that had been disposed of at the two locations in Izard County.
"We have one drop box at the Izard County Sheriff's Office and another at city hall in Horseshoe Bend."
"While the rain did pour, it did not dampen the spirits of the numerous vendors and volunteers who participated, and we want to thank First Baptist Church for letting us use their location for the event."
Members of the Izard County Sheriff's Office, Izard County Office of Emergency Services, and elected officials participated in helping cook, set up or by donating items.
"A special thanks to Alodia Hankins with the Single Parent Scholarship, Margaret Morrison and Stacey Taylor with Crowley's Ridge Development RAAD program (Rise Above Alcohol and Drugs), Cindy Schaefering with North Central Education Services Cooperative, Olivia Bennett Bear with the Hometown Health Coalition, UPSOAR Project Coordinator McKenzie Jackson with Ozarka College, and Lindsey Bowers with White River Medical Center for their participation. Also, to Margaret Yancey with Izard County Tobacco and Prevention for taking the initiative to coordinate the event. Members of our Comprehensive Opioid Abuse Coalition were on hand, as well," Melton said.
"Each and every day we see the legal and mental problems, and even deaths that are a result from the misuse and abuse of narcotics. It is our goal to not only enforce the law, but to help educate ourselves and others on the dangers of prescription and non-prescription drugs."